The Best Roof Replacement Contractor
If you are considering replacing your roof in Myrtle Beach or anywhere else around the Grand Strand area, then you want to partner with Elite Exteriors. We have been helping our local residents and rental home customers replace their roofs for over 15 years. Our process is simple – we come out and provide you with a free roof inspection. If your roof is in need of a replacement, then we will quote you accordingly. If we feel that your existing roof still has life left to it, we will estimate how much longer you have and provide you with maintenance suggestions. We are not in the business of replacing a customer's roof that does not need it. It's our commitment to quality, integrity, and service which has made us the sought-after roofing contractor along the Myrtle Beach area.
Signs Your Roof Needs Replacing
We are often asked, "how do I know when my roof needs to be replaced?" The answer isn't always a simple one due to the fact there are many items that can contribute to your roof failing. Here are some of the tell-tale signs that it is time to replace your roof:
Missing Shingles. If you have received damage from a storm, you will find some of your shingles may have blown off or are folded backwards (wind damage).
Hail Damage. If you went through a hail storm, then the impact from the hailstones can cause damage to the fiberglass mat and require your roof to be replaced.
Leaks. A leaky roof can occur when flying debris impacts your roof, a storm blows off shingles, or due to improperly installed pipe boots. Not all leaks make it into your living area. You want to check your attic occasionally as well.
Mold/Algae Growth. If you have mold or algae growth on your roof, then you want to start planning on a replacement. 
Your Roof Looks "Shiny". When you look at your roof on a sunny day and parts of it look "shiny", then you want to prepare for a roof replacement. These are the strands of the fiberglass mat showing which means water can begin to penetrate your roof.
No Hassle. No Obligation.
Lets start with a quick consultation
Financing Available (OAC)*
By submitting a form on this website, I understand that Elite Exteriors(1) will call me to confirm your appointment and (2) may call me to discuss its products and services. I further agree that Elite Exteriors may contact me at the telephone number(s) listed above in the future to tell me about its new products, promotions, sales events and services. I understand that Elite Exteriors may use automatic dialing or text messages to reach me. View our Privacy Policy.
Your Roof Protects What Matters Most
Your roof not only keeps the elements out of your home, but a properly installed new roofing system can help keep your utility bills low and increase the value of your home. With so many different manufacturers, brands, styles, and warranties available today, you want to make sure you are making the best-informed decision for your new roof investment. At Elite Exteriors, we understand that this may be the first time you are replacing your roof and we want you to feel confident in the selections you make. Not all asphalt shingles or roofing systems are created equal, which is why we prefer to educate our customers on the best products available for them today.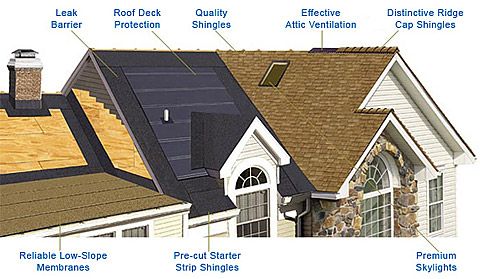 Advantages of a Roof Replacement
Home improvement projects don't have to be a headache!
We make it simple and easy for you.

Our Project Consultant will meet with you to learn more about your project, understand your needs, and assist you with making an educated and informed decision.
After we understand exactly what your needs and wants are, our team will put together a clear, accurate, and detailed estimate for you to review.
Once we have agreed on what your expectations are, it is then time to begin your homes transformation by selecting your products, colors, designs, etc.
It is time for Elite Exteriors to do what we do best - increase your homes curb appeal by installing the best American-made products for your home.
We Can Call or Email You.
By submitting a form on this website, I understand that Elite Exteriors(1) will call me to confirm your appointment and (2) may call me to discuss its products and services. I further agree that Elite Exteriors may contact me at the telephone number(s) listed above in the future to tell me about its new products, promotions, sales events and services. I understand that Elite Exteriors may use automatic dialing or text messages to reach me. View our Privacy Policy.
By submitting a form on this website, I understand that Elite Exteriors(1) will call me to confirm your appointment and (2) may call me to discuss its products and services. I further agree that Elite Exteriors may contact me at the telephone number(s) listed above in the future to tell me about its new products, promotions, sales events and services. I understand that Elite Exteriors may use automatic dialing or text messages to reach me. View our Privacy Policy.
Or call us. We're Here For You.